I have been keeping a secret over this holiday season… I finally get to share it! I feel as though I have found an amazing specialized homeschooling resource library. I seriously find myself discovering more and more resources in this place; some we've utilized, some we've earmarked for later and more still awaiting our discovery. It has truly been like walking into a library of incredible books to devour!
I've recently been honored to partner with The Old Schoolhouse to review homeschooling products throughout 2016. Although I am drooling over the list of awesome products that we get to utilize in our home classroom, I am still in awe over the Yearly Membership at SchoolhouseTeachers.com!
I have to admit; at first I was a bit intimidated. There are simply so many resources available on SchoolhouseTeachers.com. I was able to rule out the perusal of the middle and high school resources because our students are 5th, 1st and Kindergarten, with the exception of upper grade Spanish resources.
So what did we find..?
To start with, keep in mind that I was in the middle of holiday festivities when our membership began. To top that off, we had planned on taking the entire month of December and the first week of January off. I had already hung my teacher's hat, swapping it for the Santa cap and reindeer antlers. Consequently, I didn't take the time, initially, to peruse the site myself. However, I let Bookworm Beauty (5th grade) take over. Her ability to navigate the site and find multiple topics of interest to study was a great indicator of the overall user-friendliness and content-richness of the site.
Bookworm Beauty spent so much time reviewing the resources on SchoolhouseTeachers.com that I began to suspect she may have been surfing the internet and playing games instead. However, every time I checked on her, she was plugging away. She spent most of her time working on Keyboarding in Computer and Technology, Elementary French in Foreign Languages, and Reader's Theater in Drama and Speech.
Bookworm Beauty may be only 10 years old and in 5th grade, but she has spent 2 years in a Spanish Language Immersion program. She was excited to see that Foreign L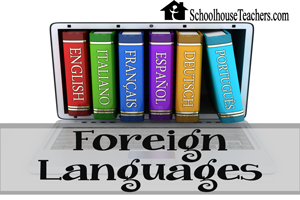 anguages were available but quickly felt let down to see that the programs didn't offer anything beyond the elementary level. However, It didn't take her long to bounce back as she reminded me that she really wanted to be tri-lingual and now had an opportunity to learn French – which she proceeded to dive into! There is currently 3 full years of French available for download, taught by Monsieur Greg Shone. She has been able to navigate the program herself and is currently on lesson 7 of year one. She hasn't done much, but her enthusiasm has not waned – I call that success!
Keyboarding was Bookworm Beauty's least favorite experience on the Yearly Membership. She felt that the lessons were just way to slow. In the end she determined that it may be well suited for younger students with little to no keyboarding experience.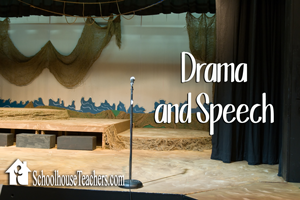 The highlight of Bookworm Beauty's experience was Drama and Speech. I have a feeling that the Reader's Theater will be an ongoing part of our school from here on out. She had a great time showing off her director skills as she worked with Sweetness and The Boy to perform a few of the titles available.
Sweetness and The Boy thoroughly enjoyed Awesome Stuff in the Bible! They loved the fun animated bible videos. The stories reviewed were not new stories to them, yet they held their interest. The Boy said they were "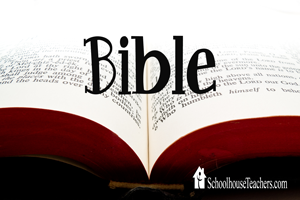 Awesome!" and Sweetness especially loved the songs that accompanied the videos. She continues to sing them well after viewing them.
I did take the time to peruse the site on my own. For me, my biggest question was whether or not this was a site that I find enough value in to pay for the membership in the future. After talking with Bookworm Beauty I felt that there were a few areas that could be improved upon, with more advanced Keyboarding instruction and advanced Foreign Languages. However, at this time, that is all that I find lacking.
I have earmarked several resources for future studies throughout this year. The Lapbooking resources are incredible, as is the Everyday Easels Unit Studies in Art. I was also floored with the over 10,000 titles of streaming video resources in the Media Library that accompanies the Yearly Membership!
I'm sure that there are many great resources available for homeschoolers everywhere. If you are looking for one that has everything in one place, this may be it! Previously, I have spent hours searching for supplemental resources to go with whatever we were studying… not any longer!