We like to include as much literature as possible in our homeschool as we believe it enriches life. It has been an incredible joy to have the opportunity to review the Second Grade Literature Guide Set by Memoria Press with Sweetness.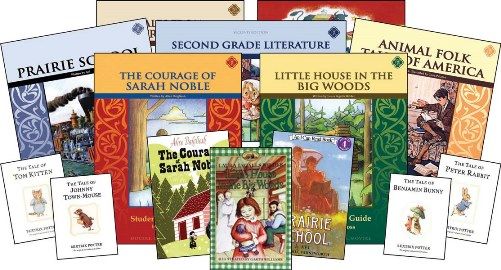 Memoria Press has literature sets for first through ninth grade. Having three different grade levels in our homeschool made it difficult to decide which level to review. Sweetness is finishing first grade and really stretching herself as a reader so we made the decision to review the Second Grade Literature Set which included Little House in the Big Woods, Tales from Beatrix Potter, Prairie School, Animal Folk Tales of America, and The Courage of Sarah Noble.
Each study is designed to encourage growth in comprehension, vocabulary and spelling. The enrichment activities in each study covers additional literacy devices.Tales from Beatrix Potter focuses on composition, subjects, verbs and adjectives. Animal Folk Tales of America introduces folk tales. Prairie School focuses on life lessons and culminates with a Psalm of Life by Henry Wadsworth Longfellow. Little House in the Big Woods introduces research and information organization. The Courage of Sarah Noble focuses on details, illustrations, characters and quotations.
It was like Christmas when the package arrived. Sweetness was so excited and looked over each student study guide. I let her make the decision as to which one we would start with. I was only a bit surprised when she chose Little House in the Big Woods as Laura Ingalls has become a household mainstay over the last several months. We immediately went to the used book store, picked up a copy, and began reading.
Sweetness has been comfortably reading chapter books. I have not been sure how well she had been comprehending and retaining her readings until we started Little House in the Big Woods. The Literature Guidelines in the Student Study Guide encourages the student to take some steps prior to the days reading. These steps include reviewing previous vocabulary; reviewing the setting, character and plot; and to review vocabulary so that students will be prepared to look for and recognize them when they are read. We have found these steps to be very helpful. There are words in these books that Sweetness is unfamiliar with and it helped her to pay attention to them as we read. I appreciate the children learning vocabulary this way. I believe that students are more apt to actually learn words that they have discovered within something as it gives them a purpose for understanding them.
After the days reading, Sweetness completes the vocabulary fill-in-the-blank section. Having reviewed the words prior to reading helps her to pay attention and be able to complete this section. There have been a couple of times that she has had to go back and look through her reading to recall the information, this is another valuable skill. We then do the comprehension questions together. We go over them orally, then we write the answers together in a complete sentence on the white board. I like this part because it gives me the opportunity to model the proper way to answer a question in w
riting. She then copies the answer from the white board into her Student Study Guide. Most sections have an additional opportunity for learning such as an activity, a life lesson or art. We have not done all of these but we do at least discuss the ones we decide not to complete. In Little House in the Big Woods, there are also Honors Activities. These activities offer great enrichment opportunities such as understanding the difference between fact and opinion and event sequencing. We have enjoyed these additional studying opportunities.
The best part about literature time in our homeschool is that Sweetness and I have had the opportunity to have those few moments together, just her and I. We take turns reading together then we go over the work. The work often leads to wonderful discussions about life and dreams. I treasure these moments.
We are almost done with Little House in the Big Woods. I am a bit sad that we are wrapping it up but I am glad that our literature time is not ending. We are looking forward to completing the next four studies together, starting with Animal Folk Tales of America. It will not be long before we order the Third Grade Literature Set!