We decided to do some things differently in our homeschool when we were given the opportunity to review Sculpture Technique Model by ARTistic Pursuits Inc. We were so excited about this product that we simply could not keep it a secret… which means my closest homeschooling friends (and anyone else that would listen) heard all about the program that we were waiting for!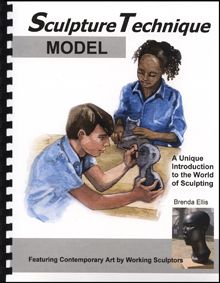 By the time the text book arrived, we had managed to accrue a gathering of our closest homeschooling friends and made arrangements to make Wednesdays our Art Days. Combined we have 16 kids, but only had 9 (ages 5-15) participating in our art classes. Our typical schedule includes meeting together for lunch, completing one of the art lessons in the Sculpture Technique Model text, complete the associated art project and then follow it up with enjoying some time together. It is certainly no surprise why Wednesdays have become our all-time favorite day of the week, not just because of getting to spend great time together in fellowship, but mostly because we are all loving the art curriculum!
Sculpture Technique Model covers three areas of study that lend themselves to three-dimensional design: sculpture, ceramics and fiber using putty, clay and wool. Although it is geared primarily for students in upper elementary through high school, four of our students are 5-8 years old and were fully able to grasp the concepts and create their own projects. We typically broke the groups up into two, allowing the older children to help the younger children and then allowing the older children to complete their own. Although the older children helped the younger, it was not because they were incapable of completing the projects themselves but because the projects we completed were a bit messy and having two extra hands to hold the sculptures made life a little bit easier.
As parents, we have been truly amazed with the creativity of our children. The first three art lessons call for a product that none of us (with the exception of the contractor husband of one of the ladies) were even familiar with, Durham's Rock Hard Putty. I believe that the children had a unique eagerness about the project simply because it was unlike anything they had ever done before!
Sculpture Technique Model offers a total of 12 unique lessons, introducing students to the fundamentals of sculpture and teaching mass, scale and surface concepts. Although you can certainly complete activities in any order it is recommended that you stick with one medium and work through the projects associated with it. This builds a student's experience level with the medium and also allows him to gain confidence in using it. For example, the first week that we used the Durham's Rock Hard Putty, we found the product a bit difficult to work with. It was messier than we expected and it dried too quickly. Although the students were a bit frustrated, it was still fun and their sculptures were nothing short of creative. However, we learned from that experience and the following weeks went quite a bit smoother. After completing all three lessons using the putty, the students have expressed a desire to do the first lesson again. Confidence furthers creativity for sure!
Although I was given the Sculpture Technique Model text for the purposes of this review, we also had the Sculpture Technique Construct text which introduces form, planes, motion, and volume through projects including: papermaking, papier-mâché, cardboard and wire. We completed two of the projects from this text as well in our Art Days.
In summary, our Art Days have been a lot of creative fun! One of the greatest benefits of this program is that the purpose of these texts have extended beyond creativity and projects. I have been able to witness an overall understanding of artistic terms that are typically not learned until later grades. While driving through the Colorado plains (where we live) with the mountain range in view, The Boy (5) had an aha moment… he piped up with, "Mom! All of the land around us is a plane and the mountains are a form." These are the moments as a homeschooling mother that I cherish, knowing that my children are able to take what they have learned and apply it to other areas of their life… and the best part is that they had fun learning those terms!