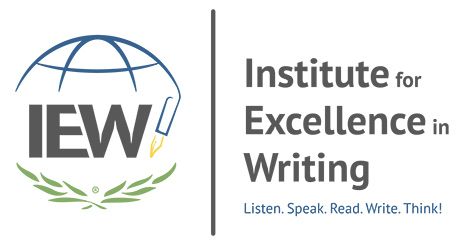 The most entertaining  product we have been able to review up to this point is by far Linguistic Development through Poetry Memorization by Institute for Excellence in Writing. I can safely say that up until this point in our homeschooling endeavor, nothing can match this product for the joy and laughter it has brought forth… and it was educational too!
To be honest, my first reaction towards this product (before looking into it) was not one of interest. I looked at a couple of the poems that were part of the product and did not want to dedicate time towards having the children commit silly nonsensical poems to memory. I have to admit, that was an ignorant assumption.
The  Linguistic Development through Poetry Memorization package is a mere $65 and includes a 200-page spiral-bound teacher's manual, 6 CD's well protected in a high-quality leather CD case, and FREE downloads. Student eBooks are included in the FREE downloads as well as 7 audio MP3 files. Student books can be ordered for $19 if someone feels the need but having them FREE electronically allows every child in your homeschool to have their own workbook – or even an additional one at a later time! Institute for Excellence in Writing has made this product so affordable that budget should not keep most families from being able to add a high-quality poetry program to their school.
What turned this product from one of little interest… to an okay I'll check it out… to a WOW! I am so thankful to have this program… is what was so eloquently stated in the 15-page introduction. I strongly encourage anyone utilizing Linguistic Development through Poetry Memorization to take the time to read the introduction section. To summarize, this program is focused on providing tools for developing effective communication which requires a vast vocabulary database of sophisticated language patterns. Unfortunately, in our culture today, the largest sources of linguistic input comes from various media sources. We simply can not rely on those sources to be the primary educators of language! To go further, memorization develops the brain neurologically in ways that no other element of education can.
Although memorization of any kind promotes neuronal connections, poetry is the best content for children to memorize. First of all, poetry is fun and children have a much greater desire to complete work that is fun. It is also easier to learn. However, the most important reason for memorizing poetry is because it provides a vast pool of vocabulary and grammatical patterns that develops fluency.
I can not say for certain that in our mere weeks of committing poetry to memory that my children have increased their vocabulary. However, I can say that I have witnessed first hand that they are far more aware of prose and fluency and they are also more likely to engage in conversation with a bit more flair.
There are five levels, each including 20 pieces to be memorized. The levels are progressively harder. Level one begins with simple and short poems. The program culminates with level five that includes famous speeches such as Socrates' Apology by Plato, Patrick Henry's Give Me Liberty and Mother Teresa's Anyway.
For the most part, we followed the program as outlined, tailoring it a bit to suit our schedule. We have a an hour drive into town that we do on a weekly basis. This has become our primary time of engaging in the learning of new poetry. Typically we learn 3-5 poems during our drive, using the CD. We then review them daily, along with previously learned poetry, as set forth in the program.
I was amazed at how quickly the children learned these poems! Sweetness and Bookworm Beauty followed the program as outlined and recited each poem until committed to memory. The Boy (5), however did not want to recite a single one. Since I was usually driving while learning the poetry I just decided that I was not going to force him to complete this work at that time. Days later, while completing our daily review, The Boy announced that he wanted to try. We were on the ninth poem at the time and he recited all of them almost flawlessly!
Being that the children were able to memorize the poems quickly, I asked them to really spend time focusing on the delivery of them. I told them to think of it like learning a new song. Songs are not only about lyrics but about the presentation of the lyrics. To just state the lyrics in a general fashion removes every element of the song itself. With the poetry, the focus is on the linguistic dance that takes place and the delivery of the poetic prose.
I truly believe that as we progress through this program, the children will have great confidence in being able to communicate effectively. Such confidence will enable them to try out for plays, give presentations, interview well and even articulate their thoughts and opinions. This is not about poetry, this is about life skills.