It has been a joy to have the ability to review NotebookingPages.com's  Lifetime Membership. It is quickly becoming a tremendous new writing resource for our homeschool and for Bookworm Beauty in particular. Since I had no previous notebooking experience prior to receiving our membership for review, I had absolutely no idea of what to expect and I was a little bit overwhelmed as I scrolled through the topic lists. There were so many products to choose from!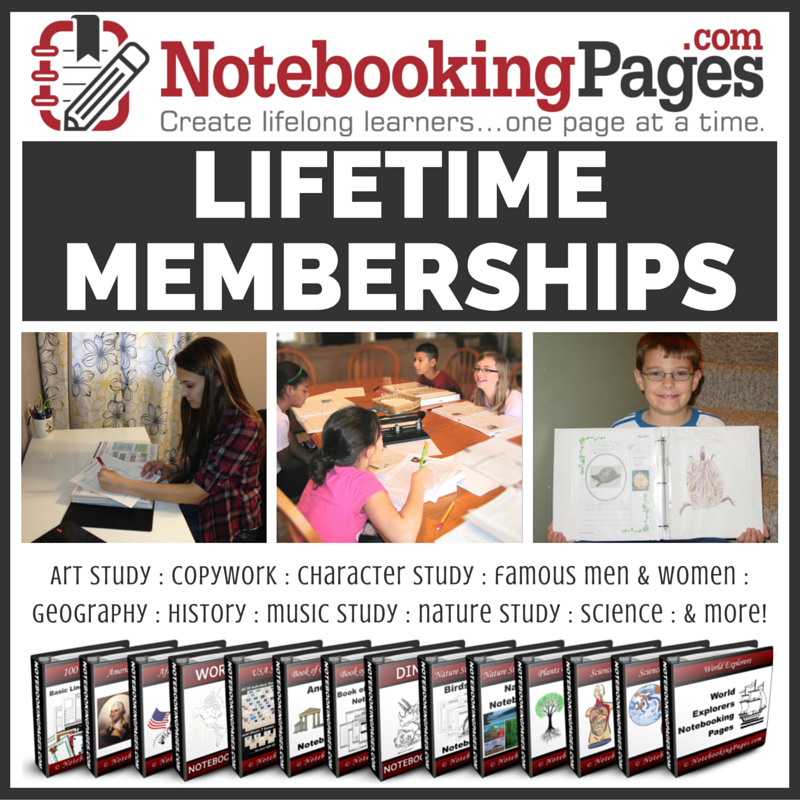 Writing has become a large part of our homeschooling so we tend to put a great effort into encouraging the kids to do as much of it as possible. Some of the things we have done to help them take greater pride in their writing is to give them the resources and the means for making things such as folders and books to display their pieces. After discovering the amount of notebooking resources on NotebookingPages.com, I knew that we would never have to experience boring in our writing presentation again. 
If you have followed my blog at all over the last year, you would already be well aware that Bookworm Beauty has been slightly obsessed with Laura Ingalls Wilder. She has devoured virtually every book written by her or about her and has spent countless hours watching the Little House on the Prairie DVDs. She was recently assigned a couple of assignments to commemorate her early pioneer and Ingalls' studies, one of which was to write an expository piece. She needed to share her own thoughts about her studies.
We were pleased to find that NotebookingPages.com offered a Laura Ingalls Wilder  resource. It was similar to each of the resources we had perused and contained 11 pages. There was a cover page with a picture of Laura Ingalls Wilder and 5 pages with single-spaced lines that included either a picture of her or a picture and an empty box for the student to add or draw a picture, a chart or something else of their choosing. There were 5 additional pages laid out the same but had lines for primary writers. Bookworm Beauty used the single-spaced notebooking pages fo
r her writing piece and she chose the sheets that included both the pictures and the empty boxes so that she could show off her artistic side.
With so many options at NotebookingPages.com I have found myself looking for additional writing resources to use with almost every upcoming topic we will be studying over the next school year. Being that we are still in the midst of our solar system and outer space unit, we have decided to have all of the children utilize the Planet notebooking pages for their writing.
NotebookingPages.com's  Lifetime Membership is $97 and payable as either a single installment or 4 monthly installments of $10 for the first month and $29 for the following three months. This allows members access to all downloadable products including all lifetime updates and new products as well as a 12-month subscription to their Notebooking Publisher web-app. This is an incredible deal as not only are there literally 1000's of pages of notebooking materials, they are continually adding new pages. If you are unsure about the membership then their FREE Member Resource Center with over 600 resources would be a great place to start.
I imagine that we will be utilizing NotebookingPages.com's resources a lot over the coming years and changing every day writing to masterpieces with a bit of flair!

\