As I look back over this year, I notice that I have had the luxury of reviewing incredible homeschooling products at just the right time and the LearnBop for Families subscription by LearnBop has been another example of perfect timing for us!
LearnBop for Families is an online subscription based math program for individuals from 3rd grade through adulthood. Yes, adulthood… even adults can benefit from their personalized math program that determines where an individual needs improvement and then builds a roadmap for that achievement.
LearnBop for Families subscription are affordably priced as well at $14.95 per month for a single student or $19.95 per month for a family with up to four students. 12-month subscriptions offer the best savings as $149.95 for a single student and $199.95 for up to four. All subscriptions offer a 30-day money back guarantee. The best part is knowing that LearnBop is so committed to providing math support that they have a Buy One, Give One program that provides an in-kind subscription to under-privileged children for each subscription purchased.
Setting up the profiles was both quick and easy. Bookworm Beauty enjoyed the ability to set up an avatar-type profile picture to represent her during her math journey. It may be a small thing but it made her day to think of herself as a fashion designer when logging in. I bring this up because it was something that I overlooked as unimportant until I heard her sharing her desktop with The Boy. I realized that it personalized her LearnBop experience and got her buy-in, which means she is more engaged in the program (definite plus).
Part of the set up includes selecting a roadmap either by grade, by subject or High School level. After selecting the roadmap, the student takes a placement test which then lays out their road map to meet the students particular needs. The student then begins to master concepts by working through building blocks, watching videos and completing math problems called Bops.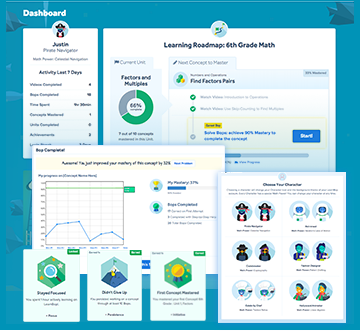 Bookworm Beauty and I set up her account one evening. Being that it was nearing summertime, I let her take complete control in determining which direction she wanted to go (grade level support or specific concepts). At first she wanted to work on percentages and she completed the placement test. After it determined her learning roadmap, she changed her mind and decided to go ahead and complete the 6th grade level roadmap. The 6th grade level covers rates and percents; operations with decimals, division and distributive property; variables and the relationships between them; positive and negative rational numbers; four quadrant coordinate graphing; equations and inequalities; area of 2-dimensional shapes; volume and surface area; analyze and display data; expressions with variables; and collecting data and studying the distribution of data. As she progresses from one unit to another, she has to complete another warm-up to determine the best place to start for that unit.
My favorite aspect of LearnBop for Families is the continual evaluation of the best place for the student to be. This program is not a one-size-fits-all approach to math, it is highly intuitive and keeps students focused on their specific needs.
Although we used LearnBop for Families for our summer math program, it may be suitable as a full math curriculum.