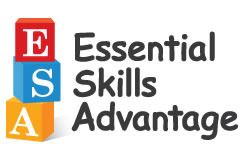 As we started this school year last August, I remember thinking that I was going to plan to school year round (with more breaks throughout the year). I maintained that thought until the days really began to warm up, the birds began chirping and our surroundings began to turn green. There's just something to be said about enjoying summer. So it seems that our homeschool year is winding down and I find myself organizing, tidying and wrapping up loose ends. Bookworm Beauty is heading into the 6th grade, while Sweetness will be starting 2nd and The Boy 1st grade. Although all of the kids have excelled in most areas, all have areas that could use improvement.
I did not realize how timely the opportunity to review the Complete Home Learning Suite by Essential Skills Advantage was until I began to contemplate our summer schoolwork. 
The Complete Home Learning Suite is an online supplemental program providing over 14,000 lessons for grades K-6 in reading, spelling, language, grammar, math, science and geography and is unlike other online programs we have attempted before.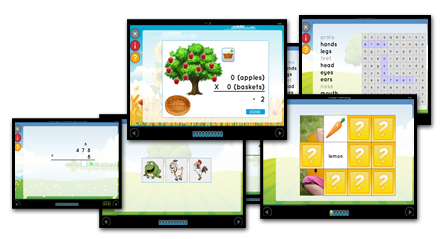 Nuts and Bolts
For starters, the program is affordably priced and can be purchased monthly, bi-annually or annually. For a single student, the monthly rate is $7.99, $39.99 for six months and $69.99 for a full year. Additional students are only 99 cents per student per month. *** There are special rates for larger packages for up to 10 students***
The value is absolutely there with this program. We received two annual subscriptions, for Sweetness (7) and The Boy (6). They both login to the same place, initially and are then able to select their own name where they can then select the lessons that they would like to work on. It is easy. It is child-user-friendly. It is colorfully-child-inviting.
For me, these things are equally important. I always look at the content being solid when looking at any product. However, when I am looking at online products where my children have the ability to work independently or at least semi-independently, I desire things to be inviting and engaging so that they will actually desire to work independently.
Essential Skills Advantage underwent a major overhaul and facelift in this last year. We knew that this review was coming up so we dabbled in the program in January and February to get a feel for what would be offered. We were pleased with what was available then, but we were really WOWED when the newer version was released. If you have tried this program before, you really must take a look at it now!
Our Experience
Children are becoming more technically savvy at younger ages than I could have even imagined only a decade ago. In our homeschool we really appreciate a more traditional approach with tangible textbooks, workbooks and face to face engagement. We try not to rely on technology as much as possible as our lives are filled with enough of it as it is. In light of that, I carefully screen what we introduce technologically into our normal daily routines.
Our home is not technologically overloaded either. Our dinosaur desktop is inadequate for online learning and I limit the kids' access to my laptop. The only thing that they have reasonable access to is our tablet. Being that the Complete Home Learning Suite has been optimized for tablets, it suited our technological needs well. It is definitely worth mentioning that the program works on iPad 2, 3 & 4 as well as Android devices. Although it has not been optimized for use on smart phones, it does still work on mine. Bottom line, we can work in this program virtually anytime, anywhere.
Both Sweetness and The Boy enjoyed using the program (that's a plus). They went from one activity to another without asking if they had to do more (that's a plus). The reporting feature allowed me to easily check on their progress (that's a huge plus).
Looking Forward
Since our home is in full summer mode and winding down, we are limiting our workload choices where Essential Skills Advantage will be a necessary component. We have isolated areas needing reinforcement for both Sweetness and The Boy and instead of carting around summer workbooks on our sun-filled expeditions and car rides, the kids have been able to complete supplemental work on-the-go. I can then simply print out periodic reports and place them in their annual schoolwork binder.
I am thankful that we have an annual subscription and imagine that we will be using this product throughout the year.