We have been a part of a wonderful creativity-inspiring weekly homeschooling art co-op with two other families. This group became a perfect platform for reviewing ArtAchieve.'s Entire Level II.
Before bringing ArtAchieve to my homeschooling art co-op, I did my due diligence and ensured that I would not be violating any copyright laws by sharing the lessons in a group format. I received a quick response from the artist/owner that was personal and thoughtfully written. He gave me permission to use the program in our co-op  and informed me that oftentimes teachers use the program a classroom setting. I thought this was very generous as their packages were already affordable. For example, the Level ll package is $53 for a 1-year license and includes 14 complete art lessons (additional single and bundled purchasing options are also available).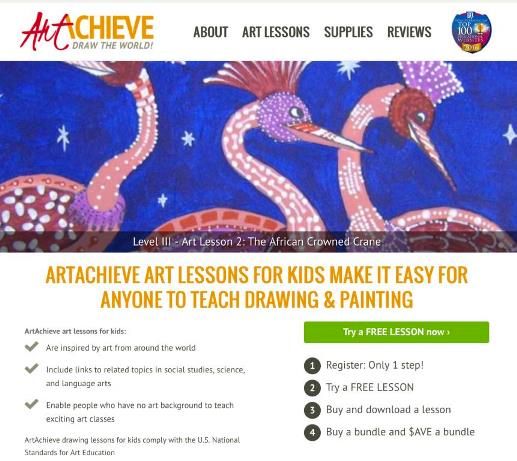 The Lessons
Two formats are offered for the presentation of the lesson. You can either follow a PowerPoint version or a video version that is taught by the artist John Hofland. Each lesson centers around a unique culturally-rich item that was collected during the artists global travels. He takes the time to introduce the students to the item, explaining where it is from and offers cultural tidbits. The lessons include additional studies links  in Science, Social Studies and Language Arts to  help students to make connections between the world they see around them and their art.
The lessons follow the same format beginning with the item description and its cultural significance. Next, the students are taught how to take a moment to relax before beginning their art. The Rules for Drawing are then covered, which seemed to help the students to further relax and approach their art from a creative standpoint instead of an attempt at perfection. The step by step detailed drawing instructions broke down the process into simple and easy to follow steps allowing all ages to be able to follow along and achieve success.
After the drawing was complete suggestions for coloring or decorating the drawing are given. This was another area where cultural significance is discussed and the students are taught to view this as an opportunity to bring more than just some color to their piece.
Our Experience
Our weekly art co-op consists of ten children ranging from 3-15 years old. We found that each of our children thoroughly enjoyed their art time. They celebrated the process, learned about different cultures and took pride in their art. The best part of our experience is that each child, regardless of age, was able to follow along and gained confidence in their artistic abilities.
Together, we completed three of the projects; The Japanese Goldfish, The Ukrainian Rooster and The Czech Cat (which is always available for FREE). Each of our lessons have been a complete success. My personal favorite was the Ukrainian Rooster, their art pieces were colorful and lively. It seemed like the creativity of the children increased with that particular lesson, possibly as a result of all of us having chickens.
The Downside
Everything has a downside, even a program that has provided a means to inspire our children to pursue art in a meaningful way. The downside to this incredible art program is that I have to figure out which art pieces I will put on display. With three students in my home, I have quickly run out of room and have found myself with a lot of wonderful artistic pieces to choose from. We already have framed original art throughout our house by our budding artists and will need to get an additional frame for each of them to choose one to bring life to our walls. The rest will have to go into an art portfolio. The kids have also considered using their pieces as gifts for family members which is a great way to share their art with others.
Looking Ahead
Bookworm Beauty is the artist in our family and we are planning a canvas party to celebrate her birthday. We intend to utilize one of the ArtAchieve lessons as the central activity. The lessons are laid out so well that we anticipate a lively and colorful room full of adolescent girls that have gained a sense of artistic success and creativity.

Save
Save
Save