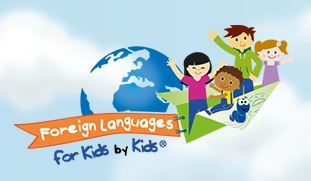 We understand the value and tremendous benefits of learning a foreign language so we were delighted when we were informed that we were selected to review the Spanish Starter Set 1 by Foreign Languages for Kids by Kids.
IMMERSION
Foreign Languages for Kids by Kids takes an immersion approach to teaching foreign language. The research concludes that immersion students most often reach greater levels of foreign language proficiency than through other foreign language program models (Williams Fortune, 2016). We have firsthand experience with the immersion model as Bookworm Beauty attended a language immersion program for two years before we made the decision to homeschool. She attended the Spanish program at that school during 2nd and 3rd grade, well behind her peers that were in attendance. Within a fairly short time, she was comprehending quite a bit of Spanish and gaining in her confidence in using the language.
Although our other two school-aged children, Sweetness (2nd) and The Boy (1st), will not have the same opportunities that Bookworm Beauty had we still desired adding foreign language to our homeschooling routine.
THE PROGRAM
When Foreign Languages for Kids by Kids arrived, we sat around like kids on Christmas, eagerly awaiting to see the package contents! There were three program levels in the Starter Set 1 that included both a full-color Guide for Teachers and Parents and an activity workbook; an instructional DVD; sticker labels; and flashcards with card game instructions for the flashcard use.
After looking through the materials we had a decision to make. We decided to get Bookworm Beauty (6th) more involved with our foreign language introduction. The program is so easily laid out that it was well within her ability to facilitate the Spanish class with the younger kids. Being that it is primarily video-based instruction, there is really no need to actually teach Spanish. The students are introduced to everyday conversation by watching and re-watching video segments for each lesson.
Starter Set 1 is currently available for $140.25 (15% discount offered on their website) online memberships are also available and offer access to all of the same materials digitally. There's even the ability to try it FREE for two days!
OUR EXPERIENCE
Bookworm Beauty and I read through the Guides for Teachers and Parents together so that we were both clear on the intended process for the program. After explaining to Sweetness and The Boy the expectations for them and  that Bookworm Beauty is to be treated like any other teacher, we were set to start. I have to confess that it was fun to see Bookworm Beauty step in and facilitate the class because she seemed a few inches taller and had an air of professionalism about her!
She followed the outline in the guide to a "T" without any deviation. The younger kids enjoyed the videos and always seemed interested and engaged, which I would believe it paramount to a program like this working. I was impressed that by the second lesson, Sweetness and The Boy were calling out the names of everyday items as they appeared on the screen.
The kids also had a lot of fun being able to label some items throughout the house with the Spanish sticker labels that are included in the program. It also serves as a good reminder to the rest of us that we are trying to increase our Spanish vocabulary and so we purpose to try and use the Spanish word for those items.
The flashcard set includes the each of the vocabulary words in pictures as well as a set of cards with the written vocabulary word. There is a set of cards for level 1 with 25 vocabulary words; level 2 with 39 vocabulary words and level 3 with 21 vocabulary words. The instructions for the Go Squish Cardgame is similar to playing Go Fish, which most children are familiar with, but with a twist. The kids particularly enjoyed playing Go Squish!
The activity book is a full-color consumable workbook that includes many activities such as word searches, fill-in-the-blanks, secret codes and more. This was a perfect workbook for reinforcing the vocabulary words learned and was well within Sweetness's ability to complete. We did not order a second workbook for The Boy as it was a bit above his ability level to complete.
LOOKING AHEAD
Foreign language is important to us and we want to find new and creative ways of incorporating it into our homeschool experience. Foreign Languages for Kids by Kids made it very easy for us to begin that process! Bookworm Beauty had fun facilitating the class and being able to brush up on her own Spanish skills. We are not quite finished with Level 1 but fully anticipate completing it along with Level 2 and 3 over this coming schoolyear.

Williams Fortune, Tara. (2016). What the Research Says About Immersion. Retrieved August 17, 2016, from  http://carla.umn.edu/immersion/documents/ImmersionResearch_TaraFortune.html