We are always blessed to have an opportunity to review wonderful products, such as Armfield Academic Press's Getting Started with French by Linney & Simpson.
Bookworm Beauty is 11 and in the 6th grade. She is a lover of languages. She started with Spanish in the 2nd grade when she had the opportunity to participate in a Spanish Immersion program for two years of her schooling. It was a tremendous experience and one that opened her world up to languages. She is not quite fluent in Spanish but can fumble her way around just fine.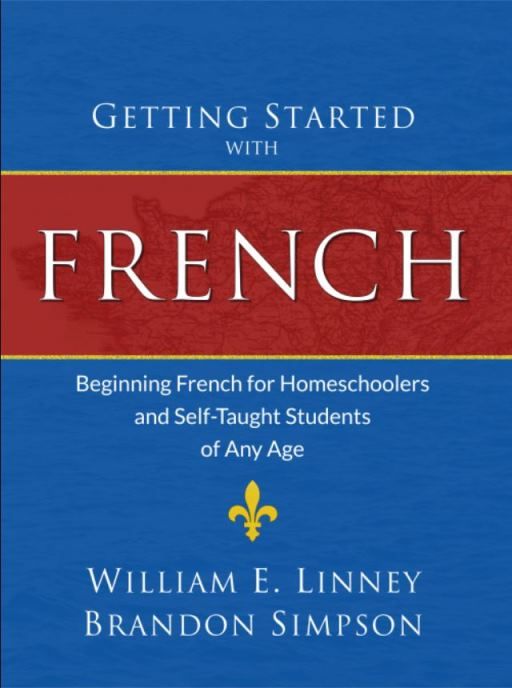 Last year, she informed me that she would really like to learn French… and German… and Russian… but she really wanted to learn French. When we completed our application for the opportunity to review Getting Started with French, she was wringing her hands and praying we would be selected. Her prayers were answered.
Bookworm Beauty literally hugged the full-sized non-consumable book and snuggled up on the couch to jump right in… and it was still summer vacation for us! I had to pry the text away and go over the brief Preface and How to Use This Book with her. We reviewed those sections together, thumbed through the 172 lessons and took note of the Expressions Francaises, General Advice, Answer Key, Pronunciation Guide and Glossary.
Getting Started with French is intended to be a beginning French course for homeschoolers and self-taught students. It includes 172 lessons that take a step by step approach to the language, allowing learners to learn one concept at a time. Each lesson builds upon previous lessons and offers translation exercises to test one's learning. Practicing the language is up to the student to make time for in his or her daily life.
I made the decision that since Bookworm Beauty has already proven to be successful at self-study that I would let her run with this program with as little intervention and support from me as possible.
Shortly after getting started in the text Bookworm Beauty lost her steam and ambition. She said that the course felt slow to her. I can imagine this program seeming slow when her experience with learning a language previously was total immersion with limited English for full school days. I had to encourage her to look at the lessons as baby steps, learning one thing at a time. She began having more success in learning but was still lacking enthusiasm.
When further questioning Bookworm Beauty, she stated that the biggest downside was that it did not include any sort of worksheets that would help her to utilize the words she had learned. I try and keep a balanced mind about these things and I know that some people really dislike worksheets and others prefer them. For me, this was not a deal killer. I actually liked the idea that the book did not include any consumable parts and therefore can be used with multiple students.
This is a program that although our experience was not one of fireworks, I find that it is a result of just not being a good self-study fit for my particular student. I truly do not feel it is because the program is lacking in any way. Having had some French in high school, I was able to peruse the book and refresh my own learning. I liked the way that the book took small steps, allowing me to almost meditate on each small step and build upon it as I moved along.
One of the most important parts of learning a language is practicing proper pronunciation. The text does a fantastic job at providing written pronunciation but that can sometimes be misunderstood. There are several resources available at their website  www.gettingstartedwithfrench.com including free audio mp3 downloads for this purpose.
I think that this program may be a good resource for anyone desiring to learn a language at a nice and steady pace.