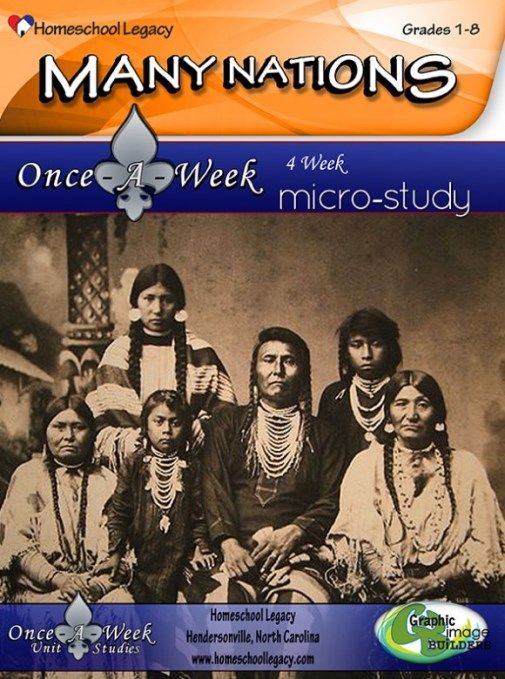 We have been really enjoying our American History studies this year. I am not sure if it is just a celebration of finally finishing our state studies or that we have truly been getting into the overall history of America. Either way, we have been winding ourselves through
America the Beautiful Part 1, which is a fantastic study of America from 1000 through 1877. Either I do not remember my childhood history studies or we simply did not cover these time periods as thoroughly.
Regardless, the timing is impeccable – which it always seems to be – as we were literally turning the last page on our studies of early Native Americans and about to begin our studies on European settlers when we were selected to review Many Nations a 4-week micro study on Native American nations by Homeschool Legacy.
We have happily set our History book up on a shelf and have been delving deeper into our Native American studies with this micro study. My first thought was how easy it was to access… it came as a PDF attachment through in an email… can it get any easier? I printed it out (I know, digital studies are designed to reduce paper). It took me right around 30 minutes to peruse the study to find out what would be expected of me, and the kiddos, over the next couple of weeks. Although this is designed to be a 4 week micro study, I really wanted to finish it in its entirety before writing my review and because I had taken a break from our normal American History studies, of which we had a schedule for.
At first glance I felt that the study was too simplified. It seemed exceptionally short. It is listed as a Once-A-Week 4 week Micro-Study, so I should not have had such high expectations on its content. Although it was short, we still got a lot out of it. I honestly do not know if we would have found the study as rich had we not been previously studying the same era. It may stand on its own just fine and we
would still have found value, especially at a mere $12.
Homeschool Legacy has so many wonderful unit studies to choose from. These are great for anyone wanting a nice change of pace, a history unit study or just a supplement to what they are already using. After looking through their store, we found a few that we may enjoy as another supplement to our History studies. Early Settlers in America would fit right along with our upcoming units. What I'm really looking forward to though is the Constitution Quest Game. We love board games and what better way is there to reinforce learning about the United States Constitution?
My favorite moment during our review of Many Nations took place on the day that the kids found their tomahawks that they made during the first lesson. Unfortunately, the Make a Tomahawk link in the guide was a dead link, but it inspired us to find another kid friendly instructable on YouTube. The kids had made their tomahawks out of paper and they were surprisingly sturdy. We had been enjoying some of the most amazing Indian summer weather and when the kids finished their school lessons for the day they ran outside to play. I had decided to peak into their play after hearing the screen door close for a fourth time and I found them using the swing set frame for building their Indian longhouses, each carrying their tomahawk. They hunted. They battled. They even took an intruder captive (Daddy). Later they buried their hatchet – a sign of their peace treaty. 
This made me smile.
The kids have learned about Indian life and learning is what matters.