It happens to me all of the time. I get a random thought and will talk myself out of doing it. I then ignore the same recurring thought (that's no longer random) until I find myself doing it.
It never seems to be something simple either… like bake cookies. Nope. Never. If it has to do with baking, it is a desire to bake a homemade angel food cake or try my hand at macaroons.
I got the inkling last year to separate the girls' bunk beds and make them into two separate loft beds – a task that took almost 9 months to fully complete – but it's complete.
I got the inkling when I wanted to start a lasagna style garden. Yep, built that too.
For the record, not everything I decide to do starts with a random thought… there are many things that I am more purposeful about – like homeschooling – which we take pretty seriously.
My new random thought will however have an impact on our homeschooling and I just can't shake it. Seriously, I gotta have this.
Are you ready???
I
just
gotta
have
this!
Wait for it…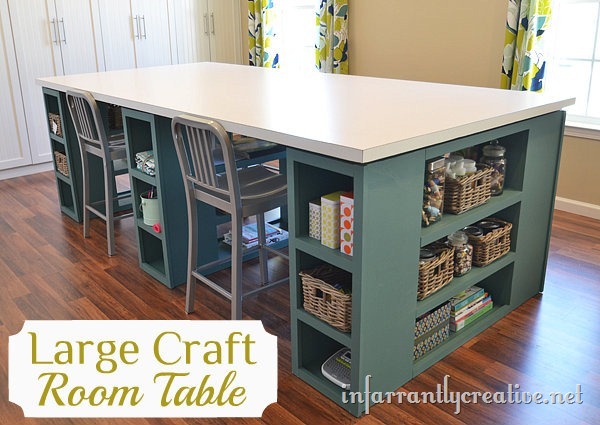 I just gotta build this table. I can already feel the space. I have already mentally organized  and set up the shelves with the kids' school items. I almost have to walk around it when I walk through the room because I can see it in there!
I will keep you posted… I have a feeling this one will come to fruition a bit quicker than the loft beds did…