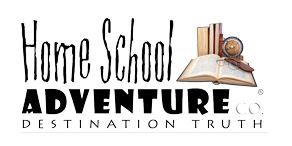 Our students have really seemed to develop a little extra hop in their step when it comes to their writing, thanks to the Creative Freewriting Adventure and the Creative Freewriting Adventure Coloring Book Edition by Home School Adventure Co., which we have been reviewing.
The 61-page Creative Freewriting Adventure retails for $18.95 for the digital download version and $21.95 for the print version.  The Creative Freewriting Adventure Coloring Book Edition is basically the same book (less a few informational pages) with a coloring page for each of the ten writing prompts and retails for $21.95. We used the digital version of the Creative Freewriting Adventure Coloring Book Edition for our writing sessions, although the coloring pages were not always used as the kids occasionally chose to draw their own picture instead.

Over the years, teaching writing has been my greatest struggle as a homeschooling parent. I have been focusing more energy and instruction on writing through great resources like Creative Freewriting Adventure and have been amazed to see how much the kids' writing skills have improved. Although the kids' writing skills have improved greatly with our increased focus on writing, they had not shown any real excitement for it. That is until our discovery of Creative Freewriting Adventure. Our first day using the product was literally an opinion altering experience for all three of the kids. That session started with several ho-hums and a few sloth impersonations as they gathered their pencils and sat at the table. Their body language spoke volumes to me and made me wish I was not selected to review this product. I gave them a short pep talk and reminded them that this product is fairly short and that I needed them to put at least a fair amount of effort into it so that we could give it an honest review. There was no evidence of any change in their body language as they agreed to participate and give it their best.
I followed the process as outlined in the booklet. I read the brief story excerpt, set the timer for 15 minutes and allowed them to finish the story their own way. As I finished the excerpt and looked up at the kids, I saw that Bookworm Beauty (11) and Sweetness (8) were no longer resting their heads on their fists but rather holding pencils and looking into the distance as if deep in thought.  I set the timer and then asked The Boy (6) to join me in the family room so that he could narrate his story to me without distracting the girls. The moment we sat down to write, he began his story and rarely stopped talking during the entire writing time.
During the 15-minute writing time, Sweetness asked if we had to stop when the timer went off. She was worried that she would not have adequate time to finish her already 3-page story! I told her that since this was our first time doing this exercise that I would let them finish their writing after the timer went off, but I did not want them to spend too much time on it as we had other things to work on. Bookworm Beauty let out a sigh of relief and then asked if she would be able to find a place to stop in her story and then pick up from there to write more the next day. I was nearly speechless. This was meant to be a simple 15-minute creative writing exercise and my kids were not wanting to stop.
The next day was one of those go-at-your-own-pace kind of homeschooling days. We seem to have days once in a while where things did not get planned as well as we like and the kids get to be in control of their own day. They typically grab the books that they want to work on and do a few assignments. Writing is rarely, if ever, selected. Not only was Creative Freewriting Adventure selected that day, it is what they wanted to start with and they asked if they could do it without the timer.
We are nearly finished with the ten writing assignments in the Creative Freewriting Adventure. When Sweetness asked if Home School Adventure Co. had additional books, Bookworm Beauty suggested that we just grab a book from our own library and open up to a random spot and read a short section, leaving off at a cliff hanger of course.
I can not express how delighted I am to see the changes in our kids' attitudes towards writing. Becoming a good writer does not typically just happen. It develops as a result of writing. The more someone writes, the more their skills and creativity develops. Creative Freewriting Adventure is the resource that literally unlocked my children's interest in writing.
Home School Adventure Co. has made true on their promise… No prep required. Just grab a pen and paper, set a timer, and have fun! It was that simple for us and our kids are really having a lot of fun!