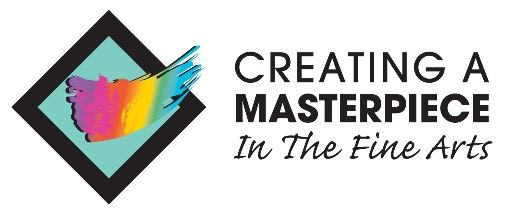 When we first started homeschooling, we made sure to fit in all of the basic subjects that were necessary and expected, leaving little room for art. We simply could not have known, at that time, how important art would become in our homeschool. Our kids (1st, 2nd and 6th graders) have grown tremendously in their artistic abilities and overall interest in art over the last couple of years and were therefore ecstatic at the opportunity to review Creating a Masterpiece monthly plan.
Creating a Masterpiece is an online, subscription based, art instruction program. It is appropriate for most anyone that can hold a utensil and is capable of following basic verbal (or visual) instructions. Sharon Hofer, the instructor/artist, takes you through each project in a simple step by step process, literally enabling the creation of your very own masterpieces. Being online content makes it even more flexible, allowing a student to pause the instructions, go back and review a step, stop and resume at a later time or even complete a project multiple times.
Projects are divided according to artistic levels from beginner through level 5. There is also an Art in History level, exploring classical techniques of particular time periods with lessons to create a project similar to those from that era. Projects overall are from a wide array of art mediums including, acrylic, batik, block printing, conte crayon, copper tooling, glass mosaic, gouache, ink, oil painting, oil pastel, pencil, charcoal, sculpture, silk painting, soft pastel, watercolor and wood burning! Subscriptions available to the these wonderful projects include unlimited access to all lessons available for either a monthly membership ($39.99 month) or an annual membership ($349 year). Also available is a full-year access to a single level, ranging between $119-199 depending on the level itself.
Prior to receiving access to the program, we decided to complete the sample project as a family. Our experience was memorable for several reasons. First of all, we have never done an art project as a family, having both mom and dad participate was a treat for us all. Secondly, it was a pleasure to see how we all followed the same instructions, yet made them uniquely our own, creating individual masterpieces. Lastly, it was reassuring to us all that although we are not all as naturally gifted as Bookworm Beauty is in the arts, we all have the ability to create beautiful work when given proper tools and instruction.
I believe that copyrite should always be honored and respected; so upon receiving access, I contacted support from the Create a Masterpiece website and requested the ability to use our access in our weekly homeschool art co-op, consisting of three families. We were granted permission to use Creating a Masterpiece in our group and the excitement level of our kids skyrocketed!
To date, we have completed two projects and have a third project that is near completion (it required more than one setting). Our first project was a Gouache technique, Granny's Crabapples from the beginner level. This was our first experience using Gouache, which opened our novice art eyes to a whole new dimension. Nine kids, ranging from 4-13, participated. I am not sure if they had more fun creating their masterpiece or if us mom's had more fun watching our kids become masterpiece creators!
The oil pastel Winter Cabin was our second project completed. Eight of the nine students participated and once again had a wonderful time learning from Sharon. Her step by step instructions are thorough and her pleasant voice and demeanor are inviting. We stream our lessons through the computer, connected to the large screen television, allowing good visibility and sound for everyone. During our first lesson, Granny's Crabapples, we found that the young artists would watch what Sharon was teaching and then immediately follow the steps without listening completely, and therefore missing valuable tips. We learned from that and took our time during our second project, watching the whole step one time through beforehand. Then we would replay the step while the young artists did their own work.
Our third project is an acrylic project from level 2, spring flowers. This was more detailed than we first imagined. We typically try to do projects that can be completed in a single setting and found that this one not only needed a second setting, but a third setting as well! We are not discouraged in the least, however as the work that is being created is simply beautiful!
It goes without saying that age, interest and natural artistic ability would play a large part in the outcome of any particular piece. However, our experience is that even our 4 year old participant is having a delightful time and is able to produce work that greatly resembles the project. Certainly her piece is different from the 12 year old's, as should be expected, but she will only get better. More importantly, she is proud of her work.
At this time, I have found only one item that I believe could be improved upon. A basic supply list and color swatch is available with each project (there is also a downloadable supply list). We found that the initial basic list is not complete. Our artists were busy with their project when Sharon picked up a color that we did not have out and they were each frantic, looking for their black. Fortunately, we had the necessary colors on hand (because we have an abundance in supplies) but this could pose a problem for someone that purchases supplies for a specific project. With all of that said, however, we did not find anything omitted from the downloadable supply list. We now ignore the basic list under the project and instead keep the downloadable list close by. With the list and previewing the lesson, we are able to ensure that the supplies are accessible to each of our young artists.
Overall, our experience has been nothing short of amazing as Creating a Masterpiece has helped our students feel more like artists as they have created their very own masterpieces! Creating art that they are proud of is a joy to witness!