There seems to be no way to avoid technology becoming a way of life for our culture. Although I am fairly technologically savvy, I find that I do not possess the skills or interest to fully teach the fundamentals and was therefore elated at the opportunity to review Digital Savvy by CompuScholar, Inc.
CompuScholar, Inc. offers several computer science courses for both homeschoolers and classroom settings. The homeschool courses offered are appropriate for middle through high school grade levels. Courses available for grades 6-12 include Digital Savvy, Web Design, and Game Programming with Visual Basic; courses designed for grades 9-12 include Windows Programming, Java Programming AP, Unity Game Programming, and Android Programming. All courses are available as a Self-Study class and some courses are also available as a teacher led class. Additional students can also be added at a reduced rate making it nice for families with multiple students.
Digital Savvy is an online subscription based course ($15/month or $120/year), consisting of 25 chapters, teaching the fundamentals of computer components, programs, internet usage, safety, web design, programming and more. If a student were to complete a single lesson per week, she would finish the program over a period of two semesters. The self-study lessons consist of video instruction, text and a quiz, typically taking less than an hour to complete and providing immediate feedback to the student.
There are many great features to the Digital Savvy course that Bookworm Beauty has been working through. The first thing that I have noticed is that I did not notice anything. Basically, I signed her up and created her login six weeks ago and as I sat to write my review I realized that I had very little knowledge of the program itself. To me, this is a wonderful problem because it means that the course is user-friendly enough for Bookworm Beauty to not need my assistance to complete the self-study course. Although I have not been involved with the daily process of the course, I have had conversations with Bookworm Beauty about the lessons as she completes them and am pleased with the knowledge she shares with me.
Bookworm Beauty has completed the first six lessons over the six week review period. On one quiz, she missed a question and was able to go back, review the material and retake the quiz. Each quiz allows the student to take the quiz up to three times. This is another feature that I appreciate as it allows the student to correct their mistakes as they go along and therefore reinforce their learning.
Another nice feature is that there are different logins provided for both the students and the teacher (me). There are many features in the teacher portal. I can view student progress at a glance in the Gradebook and I am given the ability to track completed quizzes and even see which questions were missed.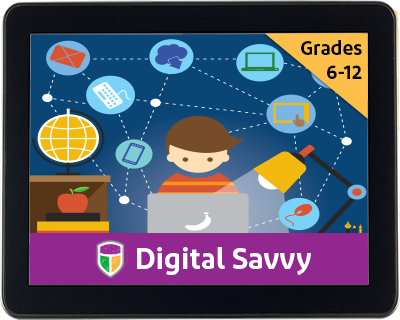 Lastly, a feature Bookworm Beauty and I both greatly appreciated was the painstaking simplicity of the instruction. She said that she felt that things were thoroughly explained and most anyone could understand what the different fundamentals are and how they all work together. She was not necessarily a fan of the amount of time spent on reviewing things, and felt that it could go a little faster, but she did understand that it seemed redundant for her only in areas where she already had prior knowledge. An example of this was the amount of time spent reviewing the peripherals of a computer in the first few lessons. Although she did not care for the continued review, it reinforced her understanding of how peripherals integrate with computers.
The only feature that I feel could be improved upon is on the dashboard itself. It would be helpful to have an easy way to see exactly where a student left off by creating a check mark or fading out links already completed. We took a week off during spring break and upon our return, she actually clicked on a lesson she had already completed. Of course, she realized this mistake quickly and went to the right lesson but she could have just as easily skipped a lesson and proceeded normally without realizing it until looking at her grades at a later time or when I logged into the parent portal and noticed a skipped section.
Knowing that my children are going to be immersed in a technological culture for their lifetimes, I feel a tremendous burden to ensure that they not only learn the basics but also how to use technology wisely, safely and as a tool. I feel that Digital Savvy provided a fantastic foundation to both of those end goals. I foresee Sweetness and The Boy completing the Digital Savvy course in a few years and Bookworm Beauty moving on to additional courses as well.