As Bookworm Beauty has gotten older, I realize that I have spent more time worrying about her writing skills and less time on any formal reading programs. This was mostly justified by her love for reading, as her name would suggest, as she seems to always have her nose tucked into a book! I actually gave little thought to whether or not we were missing anything until we were notified of the opportunity to review Readers in Residence Volume 1 (Sleuth) by Apologia Educational Ministries.
Bookworm Beauty's and my immediate reactions were an astounding "YES!" This was entirely based on our experience with Writer's in Residence, which we were able to review last year. Her experience has been so positive that we have resigned to the fact that we would pursue every product possible put out by Debra Bell (Author). However, in all fairness we decided that we would give Readers in Residence a fair review without any preconceived assumptions.
It was hard to stick with our plans when finally we had Readers in Residence in our hands. One of our favorite elements of Writer's in Residence was it's presentation and Readers in Residence was equally appealing. It lured Bookworm Beauty in as if it was the long awaited sequel to a beloved novel. For me, this is always a good sign. For the most part, she is rarely difficult about starting a new curriculum of any kind (what a blessing) but it is still a delight to witness her eagerness to get started on something new.
We sat together and read the first few sections together. There is a 2-page Quick Guide that outlined the purpose and scope of the program and also a single-page Preface which was a personal letter from the Author, Debra Bell. We then reviewed the 3-page Welcome Letter and the suggested daily schedule. It was a Saturday afternoon when we received the book, well outside of our normal school hours, and she asked if there was anything else that I wanted to look at because she wanted to get started. With no real reason to hesitate I turned her loose, besides I did have dinner to make. It should go without saying that I had to peel her away from the workbook and force her to join us for dinner!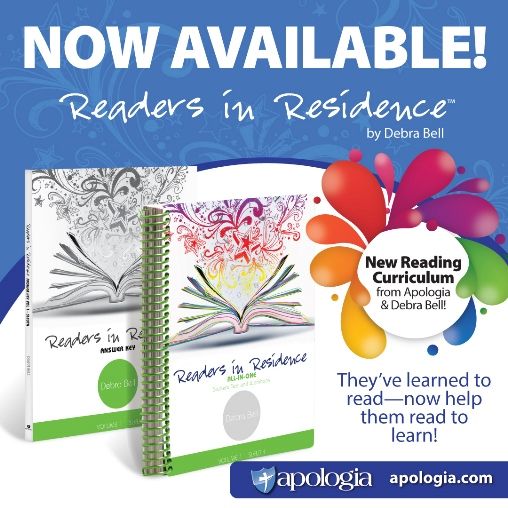 Readers in Residence is a full year reading curriculum divided into six units. Each unit centers around a different book and a different focus. Genres include historical fiction, animal fantasy and contemporary realistic fiction. Sarah, Plain and Tall, Charlotte's Web, and Because of Winn-Dixie are three books read and the other three are books of the student's choice. Students focus on different elements throughout the year, such as character development, inferences, plot development, figures of speech, theme, and many more.
In the six weeks that we have been working through Readers in Residence, Bookworm Beauty has nearly completed the first unit (32 lessons). I have not once had to remind her to do any of the work. As we outline our days, she automatically lists Reader's in Residence and Writer's in Residence. It seems to be as much of a normal daily activity for her as eating breakfast!
I'm really not just biased. Debra Bell has a tremendous gift of taking students on a journey while learning the elements necessary for a full language arts program. It is as if she is a personal guide, interacting with the students during the entire process. In our experience, Bookworm Beauty's language arts skills have really developed over the last year and I give most of the credit to these two curriculums. We are anxiously awaiting the Writer's in Residence, Volume 2 that is due out in the near future. She is ready to take her skills to the next level!