For the sake of blogging, I chose to name Bookworm Beauty as such for seemingly obvious reasons as her nose is often planted into the middle of a book. However, I have considered changing her name to Dancing Brush as her creativity and artistic abilities have been developing as a result of many fabulous art reviews that we have been blessed to participate in. Our most recent, and a favorite, art review is Entire Level IV of ArtAchieve.
ArtAchieve is an online subscription based art program. John Hofland, author and instructor, provides fascinating art instruction from places around the world and has a wonderful way of incorporating history, geography, social studies, literature and other subjects into the lesson itself. They currently offer five levels of art instruction; we received level four (IV). Annual subscriptions to lessons are available either individually for $4-6 each, in groups of three for $10-16, entire levels for $30-45 or the entire curriculum (all levels) for $222.50.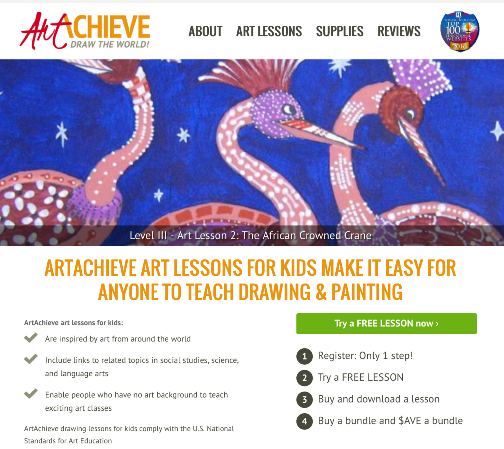 Although we all enjoy art in our home, Level IV is a bit more advanced and generally for ages 10 and above. Typically, when it comes to art, all of the kids sit through a lesson and enjoy our time creating. With Level IV, however The Boy (6) gave up quickly. I think he may have been able to follow the instructions and complete the lessons but he set his mind to it being too advanced. Sweetness (8) did not give up as easily and enjoyed completing the Hawaiian Heliconia and the Chinese Horse. Bookworm Beauty (11), however is not only capable, but interested in art and Level IV seemed to be a perfect fit for her.
We appreciate many things about ArtAchieve. To start, John Hofland has a pleasant and welcoming demeanor, making him easy to listen to. The way that he presents additional knowledge around the art piece instruction causes this homeschool mom to do a happy dance. Oftentimes, it incites interest for further exploration. Our favorites this year were the Hawaiian Heliconia, The Stained Glass Nativity Window and The Ukranian Face with Hidden Surprises. Sweetness really enjoyed The Chinese Horse: Drawing the Entire Horse, but mostly because she has a fascination with horses and really wanted to learn to draw one well.
Another benefit of ArtAchieve is that the supplies needed for completing a lesson are minimal, which makes it a good fit for most families. Lessons are easily followed and are available in two formats; they can be viewed by either video or through a PowerPoint presentation.
The greatest benefit (besides enjoying the completed artwork) is that each lesson also provides a list of suggestions for making cross-curricular connections. For example, it was fun to not just learn about the Chinese Ming Dynasty but also about how color has symbolic meanings in China. It was fascinating to learn about hidden art in famous pieces such as Van Gogh's work when we completed the Ukranian Face with Hidden Surprises. It was also nice to tie into our earlier weather studies and learning about rain shadows while completing the Hawaiian Heliconia.
Art isn't just art with ArtAchieve. Once you have completed a few of the lessons, from any level, one begins to view the world around them with a new appreciation. We know that there is more to art than just the art that is seen and find ourselves desiring to uncover the meanings of various cultural art pieces that we see in the marketplace or places that we visit. I appreciate the way that ArtAchieve has presented many fascinating facts and history into cultural art lessons, opening our eyes to the world around us.
Give ArtAchieve a shot. Enjoy the FREE lessons provided and see for yourself!