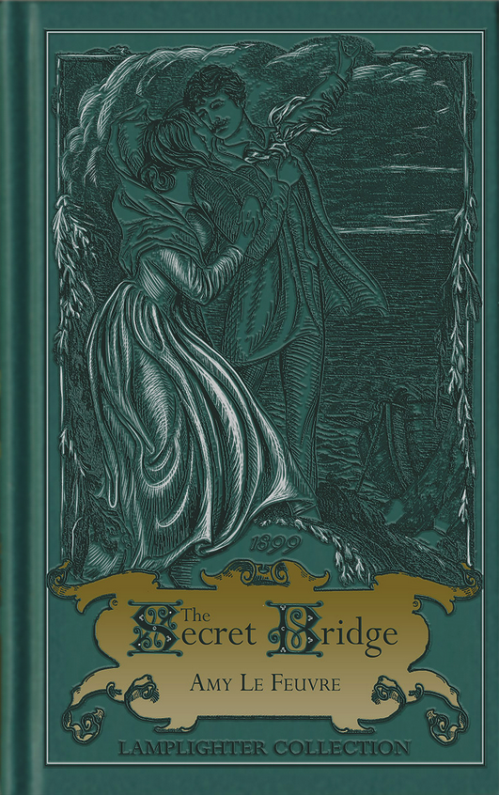 It has been a pleasure to watch our Lamplighter Publishing library grow over these last several months. I have just completed my fifth novel this year from their collection, The Secret Bridge, written by Amy Le Feuvre 1899.
The Secret Bridge is a new release from Lamplighter Publishing who is on a mission to build Christlike character one story at a time by editing and republishing quality works from years past. Each Lamplighter Publishing book I have had the privilege to read has drawn me in from the first moment I laid my eyes upon them. If it were appropriate for me to judge a book by it's cover alone, each of their books would rank high. The Secret Bridge would certainly be no exception to that, as it is a beautiful turquoise 272-page hard back book that takes center stage as it snuggles alongside the other Lamplighter Publishing books on our shelf. The front cover displays a delicately carved inlaid scene while the bold title near the bottom  is engraved into an gold embossed banner. The hard back cover itself is of a leathery silky texture that begs you to touch and makes it very difficult to set down.
The story, The Secret Bridge, is a tale that promotes many Christlike character qualities such as diligence, perseverance and faithfulness. Bridget, a young lady left penniless and without family when she arrives in London upon her father's death, is befriended by Godfrey Bullingham, a gentleman that takes it upon himself to see her through and makes her his wife. He leaves her comfortable and well cared for among his friends and family while he departs on sea, but begs of her to keep one small secret until his return. Being a lady of character, Bridget struggles with keeping the secret as it requires a bit of deception on her part, but she remains faithful to her husband. Throughout the course of this tale of love, Bridget finds herself learning to draw near unto God and to acquaint thyself unto Him. Her diligence and perseverance in seeking God and remaining faithful to her husband uncovers more secrets and sets her up to become a desperately needed bridge between others.
This story was a little slow-starting for me and took me longer than normal to get through the first two chapters. However, after the story moved along, I could not put it down and ended up reading the second half of the book in one afternoon!
Having been a homeschooling mother for four years after completing seven years of college myself, I have not had much time to read for pleasure. I have thoroughly enjoyed taking time out for myself to enjoy tales such as The Secret Bridge. As with all other Lamplighter Publishing books, I met knew friends in this one and was ambivalent about reading the last page and saying farewell. I long for more of the story and have to settle instead for meeting new friends once again through another Lamplighter Publishing book!