Call me crazy, but I was thrilled to be able to review the High School Essay Intensive program by Institute for Excellence in Writing. Even crazier, I enjoyed the entire 5 hours of DVD instruction!
Let me explain. I am a homeschooling mother and my greatest frustration in educating my children over the years has been centered around writing. I can remember in the earlier days I literally would sit in bed at night in tears because I could not teach them to write. I was constantly trying to figure out where to draw the line between telling them what to write and having them write their own pieces. It was back then that I first heard of Institute for Excellence in Writing and Andrew Pudewa's method of teaching writing. Following some of his key ideas allowed me to feel a bit liberated and enabled me to relax more in our homeschool classroom, even during writing time.
As the kids grew, and I grew in my understanding of how to teach writing, their writing skills continued to improve. We have come a long way from my nearly giving up and quitting homeschooling to the kids producing great writing. Surprisingly, writing has become one of our favorite subjects!
To start with, Institute for Excellence in Writing never lets down with their presentation. Everything arrived in a nice full-colored box that fits well upon a shelf, keeping the items protected. However, if the box is cumbersome or takes up too much space, it can be eliminated as the DVD set has it's own beautiful leather-type case. Also included is a high-quality tri-fold pocket folder holding the seminar notes. The folder itself is extremely useful. It is titled Portable Walls for the Essayist and all six sides have important writing notes covering topics such as: Types of Essays, Essay Models, Essay Writing Process, Essay Writing Strategies, Sentence Pattern Variety, Specific Models, Transitional Words and Phrases, and more.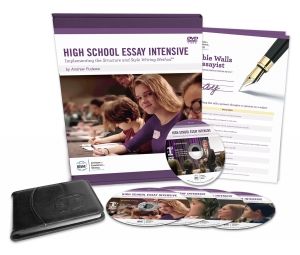 The DVD's themselves provide more than five hours of instruction on the various strategies for writing essays. Two of the DVD's provide specific instruction on writing the optional essays when taking the ACT or the SAT tests. These were informative, even for an individual not planning on taking the tests as they provide a strategy for breaking down the task of writing an essay in a short amount of time, covering an assigned topic. Although the essay portion is not exactly required for all students taking the exams, it is worth understanding the tests themselves and how to write an essay that will score well if a student is planning on taking them for college. The tests are timed and can be well practiced beforehand, building confidence for any student.
Our kids are still young and finishing the first, second and sixth grades; hardly the age to fully benefit from the High School Essay Intensive. I was thrilled to receive the product anyway. I knew that Mr. Pudewa would lace this program with many nuggets of wisdom that I can incorporate into our homeschool classroom, and he did not let down. Even more exciting is that as I watched the five DVD's from my computer, with my headphones on,  the kids could not help but be curious as to what I was doing. I unplugged the headphones a couple of times and they would listen in for a few minutes and then go find something else to do, with the exception of Bookworm Beauty (11). She planted herself next to me, looking disinterested as she slowly crept closer and closer. Then the funniest thing happened! Andrew was telling the viewer to pause the film and complete a task, which I did not do because I was only viewing the program, and she said, "Can we pause the film and do the activity?" Wow! I did not expect to be doing this review product, but rather just gaining knowledge as a parent needing to teach her kids. I relented, eagerly of course.
Bookworm Beauty did not follow the activity as expected on the DVD. Instead of writing an essay and working through it as she followed along with the program, she instead transferred the skills outlined to a writing piece that she is already doing in school. For example, she took out her first rough draft for chapter one of a six -chapter book that she is writing in class and went through it to identify her sentence patterns. She quickly realized that she tends to write subject opener sentences. After walking through the Sentence Pattern Variety activity she went through her rough draft and made several sentence revisions to make her writing more lively and a pleasure to read.
The following afternoon, Bookworm Beauty went back and reviewed the DVD's that I had already watched. She said that she is really glad that we have this program because Mr. Pudewa breaks down the writing process into an understandable format that can be used for lots of things. Recognizing that she is still pretty young and will not be taking the ACT or the SAT for years to come, she will hopefully have excellent essay writing skills by then as a result of his methods of teaching.
At a mere $79, the High School Essay Intensive is an excellent resource for any homeschool classroom!