Products were provided to us through our participation
of the Homeschool Review Crew for review purposes
The Boy has really improved his overall reading skills over this last year and is really enjoying his newfound skills, constantly. We find notes, stories and signs all over the place. It is a pleasure to witness his love of reading and writing. His appreciation of the written language makes the timing perfect for introducing a more formal Language Arts curriculum into his school mix. Fortunately for us, when he was in Kindergarten, and Sweetness was entering first grade, we were using the Grade 1 Lightning Lit Set. The Boy was not overly interested in the actual writing at the time and was still struggling to learn to read, but he was there alongside Sweetness as we read the stories and she completed her assignments in the Student Workbook. Fast forward two years and we find ourselves blessed with an opportunity to review the Grade 2 Lightning Lit Set by Hewitt Homeschooling. The timing simply could not be any better for us, nor could the product. When the box arrived and he saw that it was the same curriculum Sweetness used previously, he let out a resounding "Yesssss!"
His attitude about this program has not changed, not once.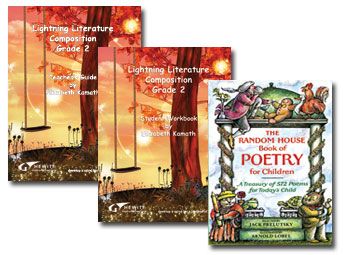 We received both the Teacher's Guide and the Student Workbook. Both are standard full-sized, soft bound books. The Student Workbook are triple hole punched, making it easy to keep in a binder or pull sections out one week (or book study) at a time and keep organized for daily use in a binder organization system. As much as I like the idea of using binders for organization, I find that our papers fare better when we keep our workbooks intact. Regardless, it is a bonus that the workbook could be used with either system.
This literature and composition curriculum can be used whether an individual wants a solid and quite thorough language arts curriculum, or as a simplified basic curriculum. Let me explain. In the Student Workbook, lessons are centered around a single story book for the first 21 weeks and chapter books are read for the remaining 15 weeks. The worksheets are broken up into daily exercises with the day of the week written at the top of the page. A typical week would consist of reading the story and asking questions about it for comprehension on Monday (Day One), and students then complete grammar and composition exercises. On Tuesday (Day Two), students are encouraged to read the story again, but it is not required. They then complete another grammar worksheet and a composition section that is centered around the child's opinions, asking what they think of the story and their favorite sentence. The book is read again, if you choose, on Wednesday and Thursday (Day Three and Day Four) with further grammar worksheets. For the most part, Lightning Literature is a four-day week curriculum, leaving Friday (Day Five) as a free day. However, there are additional resources for further study, allowing a family to extend their studies and making it a five-day weekly curriculum. The program still remains flexible and can easily accommodate most family's scheduling needs. For example, our family maintains only a three day in-home school week, with a fourth day at an on campus enrichment program and a fifth day in multiple locations. We choose to complete Lightning Lit in a three day window and simply double up along the way.
When we worked on Grade 1 with Sweetness two years ago, we relied on the Student Workbook only. We read the books that coincided with the lessons and she would complete the worksheets throughout the week. We discussed the grammar topics of the week, such as nouns, verbs, etc. and we purposed to talk about the learned grammar elements in other areas of schooling. I did not, however, really look over the Teacher's Guide at that time. It was not a review product for us and I remember looking at the Student Workbook and feeling confident in the material as it was. Overall, the curriculum was still a tremendous piece for us and both Sweetness and The Boy learned a lot. I am comfortable saying that if someone does not want a solid and thorough Language Arts program and is looking for something that is well laid out but less formal, this program can still work well for them, it did for us back then.
When I received Grade 2, I was initially assumptive that we would complete the program the same way. Until I looked over the Teacher's Guide and realized just how much we missed when we completed Grade 1. The Teacher's Guide provides discussion ideas, ways to complete a particular lesson for a struggling student, additional resources for extending the lessons and more. Suddenly, Language Arts is thoroughly taught instead of simply being just touched upon. Looking back, I do not think that Sweetness was cheated or did not learn as much, but I do think that we could have made things even better for her as we worked through the books that year.
Regardless of whether a parent decides to use the program to it's fullest capacity or not, there are stories to be read that coincide with each week's lessons. We happen to own a few of the titles but not all of them and we certainly have no desire to buy 15 or more books. However, our library has most of the titles available so we reserve the next 3 or 4 books in our lineup to keep them on hand for when we need them. There was a book that we needed that was already checked out and unavailable. Instead of delaying the assignment, we checked YouTube and found a read aloud of the book. The first time we were instructed to read the story we watched the video. The second time, however, we muted the video and The Boy read it to me. This took away any stress or worry about missing a week of lessons or skipping a lesson and returning to it later.
Grammar topics are introduced each week and seem to build upon each other throughout that week. For example, in the first week a student is learning to alphabetize words that all start with a different letter. Later that week the child is introduced to alphabetizing words that start with the same letter. In Week Four the child is introduced to adjectives and later in the same week the comparative and superlative forms of adjectives are taught. Students will learn the foundation of all grammar: nouns, pronouns, verbs and verb tense, adjectives, sentence diagramming, dialogue and so much more. By the end of the program students will have learned linking and helping verbs as well as action verbs, comma usage, letter formatting, conjugated verbs, and still more. Lightning Literature and Composition books are like a flower you get to watch bloom as each lesson opens up another petal.
If Lightning Literature and Composition are like blooming flowers, we will have a full garden this year as it is not just The Boy that is working on this program. We already have Grade 3 set aside for Sweetness and are having to keep it out of reach as she is eager to jump in and get started. We also had Grade 7 ready for Bookworm Beauty. Unfortunately, it has since been misplaced. It is important to note however that it is so important to us to use the program for her that we offered the kids a reward for finding it. If it is not found soon, we will be ordering another copy. I figure that I know plenty of homeschooling families, so I am fairly sure that I can find a home for the other copy once it is found.
I can not say for certain that Lightning Literature & Composition will be our only Language Arts programs for years to come but I can say that we are immensely pleased with their format, quality of product and topics covered. Equally important is that my children love this program and are always eager to complete their lessons. That is enough to keep me on board!