Whistlefritz products were provided to us through our participation of the Homeschool Review Crew for review purposes
Being able to review the Educator's Spanish Collection by Whistlefritz was a wonderful blessing because learning a second language is often viewed as one of the most challenging endeavors of a homeschooling family, unless of course one of the parents already know a second language. Oftentimes, families view a second language as important and even necessary, but transposing that thought into a reality is where the difficulties lie. In our homeschool, we spend our second language efforts on learning Spanish and this ultimate collection which includes 5 DVDs, 3 CDs, a Lesson Plan book and matching playing cards ($165 value) made things fun!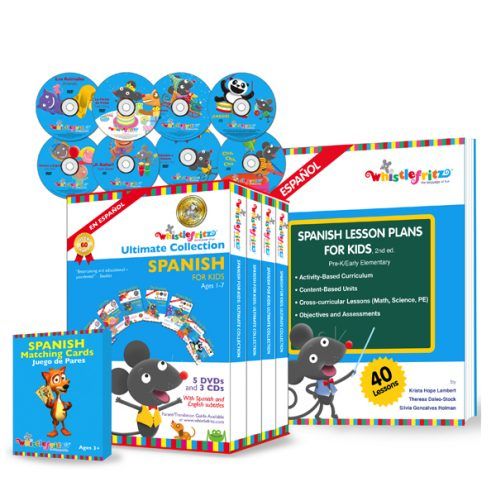 Our first impression when opening the package was that this product was definitely for our youngest, The Boy (6).  They indicate that the age range is for 1-7 years old, so this was expected. I did worry a bit about the other two, Sweetness (8) and Bookworm Beauty (11), whom is our Spanish speaking novice in our home, but both honed in on this program and have not missed watching a single one!
The premise of Whistlefritz is that students learn a second language the same way that they learned their first language, through immersion. Each DVD contains an episode (approximately 30 minutes) that focuses on a different element of normal daily life and and songs to reinforce the episode's instruction. Each episode teaches and reinforces the language for activities children are already familiar with, such as playing with toys, birthday parties, music, animals, seasons and more. The episodes are fun, engaging, and colorful as they combine both beautiful animation and live action footage to create episodes that rival any mainstream children's programming.
When we received Whistlefritz, we were in the tail end of Bookworm Beauty's busy Track season. This meant a lot of travel and full days away from the home. However, we are blessed to have a DVD system in our van, allowing us to bring Whistlefritz along with us. We often watched a single DVD multiple times, at the kids' request. I assumed they would want to watch a different one but they wanted to watch the same one again, and again, and sometimes again still.  I expected them to eventually tire of Whistlefritz but every time I peeked into the rearview mirror I have seen them fully engaged.
Watching, and listening, to the DVDs first have made me more comfortable with using the lessons from the 277 page lesson plan book that contains 40 lessons and corresponding reproducible pages. We have not yet started any of the physical lessons from the book but I have been able to look through the book and incorporate the lessons into our fall schedule when we will be home more consistently. The lessons incorporate many hands-on-activities to reinforce the language, such as creating a puppet in lesson 1 and having a basic conversation skills of greetings, introductions and feelings. There are also activities on colors, shapes, counting, seasons, things around the house, food and the body. Being that we are in the midst of studying Human Anatomy, we will be completing the lessons out of order and jumping to lessons 22-24 where we will learn many body parts and movement. The best part is that the lessons are only expected to take 30-40 minutes, so it will be easy to fit a couple of episodes into our weekly schedules.
Years ago, I met a Hispanic woman that spoke beautiful English. Although she still had her native accent, I could communicate flawlessly with her. We talked about her home in Brazil and her move to the states when she was in her early 20's. She shared with me her overwhelming fear of being able to fit in as she did not know more than a handful of English words. Her secret to learning our language was daytime television and her favorite show was Sesame Street. She spent several hours every day in front of the television and learned English just by immersing herself. This encounter made a huge impression on me and my thoughts about learning a second language. I have read that the best way is to spend six months in the culture in which you want to learn a language, however most of us do not have the opportunity to live outside of the country for six months with our children. We can, however bring another culture into our home and Whistlefritz makes it possible and affordable!
I share this story with you because although this program is designed for children ages 1-7, it is a great opportunity for anyone of any age to learn a second language. This is also a fantastic way to learn a second language as a family. I know minimal Spanish, yet I found myself improving and reinforcing my own knowledge, which was a bonus that I simply did not expect!
I have a feeling that Whistlefritz will continue to live in our van for quite a while.