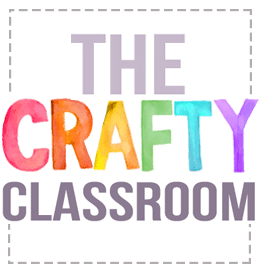 Bookworm Beauty has always loved activity books, of any kind. When she was still in the public school system, Grandma would take her to the store at the beginning of summer to buy her a BrainQuest book for a summer bridge activity book and she would lug that one-plus-inch book around everywhere we went. All of this to say that I was not in any way surprised by her reaction when we received the ability to review the USA Activity Bundle by The Crafty Classroom.
For days, Bookworm Beauty asked me if we had received the download links for the product. She was eager to have something fun to lug around and work on through the summer time. Her good morning hugs quickly turned to a happy squeeze when I was able to hand her the awaited binder.
To start, The Crafty Classroom is a fantastic online resource shop. One visit to their website is all you need to turn a gray sky into rainbows. Ok, so that will not literally happen, but I do find myself in a better mood when I visit. It is welcoming and everything is bright and cheery. If it were a physical store, it would be somewhere that my kids would want to visit again and again. They offer fun and fabulous resources for a wide array of homeschool subjects as well as art tutorials, free printables and more. The bottom line is that anyone that homeschools, or just has young children around, should have this site bookmarked.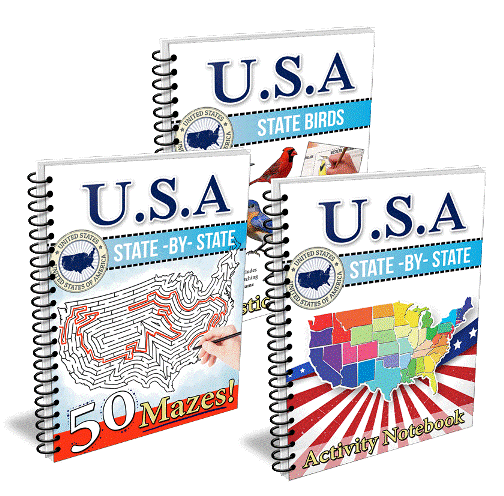 We received three links as part of the USA Activity Bundle, a $15 value. The bundle includes three activity books:U.S.A. State by State Activity Notebook,U.S.A. State Bird Art Cards, and U.S.A. 50 State Mazes. I took one look at them and decided that I did not want three books for Bookworm Beauty, but rather a single and organized book. I started by printing the State-By-State pages single-sided and put them back into the printer to print the corresponding state mazes on the back side. I then printed the state birds out separately. I did not realize, before printing these out that there are many states that have a common state bird with other states. I guess I got to learn something new with this product as well! Once everything was printed, it was only a matter of minutes for me to divide the proper state – now double sided worksheets – into groups corresponding with each bird. I had to battle with my own OCD traits to do this as there was no longer an alphabetical order to the mazes and state info but rather a seemingly random grouping. It does make it difficult to flip through and find a particular state, but I got over it quickly. All of the pages received a three-hole-punch and was placed into a binder. The only hiccup I had was when I was printing out the mazes and noticed that there was not a maze for Wyoming. I quickly emailed Valerie McClintick at the Crafty Classroom and shortly thereafter I noticed that the link had been updated and included Wyoming.
Bookworm Beauty has had fun looking up various state facts for each state in our union. She, of course, thinks that the state-shaped mazes are simple and fun and the birds are fascinating. For me, I like that she has do a little bit of research to look up the various facts for each state when completing the State-By-State pages, such as the state flower, which number it is in the union, their nickname and state abbreviation. She also gets to color their state flag, locate the state in a US map and then locate it's Capital, Rivers, Lakes and Mountains. Lastly, there is a section on each
page that allows the child to write out some facts & notes on the state. I had to chuckle when writing this review and seeing that although she has worked on a lot of the states, Colorado is the only one that appears to be completed and the facts & notes lists nothing more than "I live here!" Well, I guess that is a fact.
This has been a fun product and one that I believe every family should pick up at some point. It would be a fantastic addition to a road trip. A few years ago, we took a trip to Hawaii. We rode the Amtrak train from Colorado to Oakland, California and I knew that we had over 30 hours of train time to fill with the kids. We found similar worksheets to these and printed out one for each state that we would pass through: Colorado, Utah, Nevada, California, and of course, Hawaii. It was fun to cover facts for each state and introduce the kids to their current surroundings as we passed through or visited. I can see this particular Activity Bundle serving us for years to come as we prepare for various trips.
If you have not checked them out, go over and visit The Crafty Classroom. We are studying Chemistry this year and they have a fantastic corresponding resource, Periodic Table of the Elements Activity Pack for a mere $5. The purchase was easy and I received an immediate email response verifying the purchase with the link. I had the product printed out within minutes of my finding it on their website and completing the transaction. That was simple.
The Crafty Classroom is bookmarked on my computer and I have a feeling I am going to have to start explaining to Handsome why we have so many transactions with them!