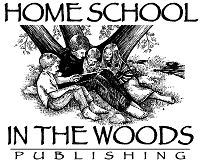 I have a love hate not-so-love relationship with our most recent review product,
Time Travelers American History: The American Revolution by Home School in the Woods. Please read this review through to the end as I hope to share as clearly as possible how incredibly valuable this product is, but it is only fair for me to be equally honest about the level of frustration I encountered when working with this product.
This is not our first time reviewing Home School in the Woods' materials. We were privileged to review the History Through the Ages Hands-On History Lap-Pak: U.S. Elections last year. This ended up making it to our 2016 Top Reviews list (as I am confident The American Revolution will as well). Bottom line is that Home School in the Woods creates some dynamite products that are simply fantastic and provide a creative platform for learning. I was simply delighted to review Time Travelers American History Study: The American Revolution. My first thoughts were of fond memories of our completed lap-pak from last year's study of U.S. Elections.
I received our links for our digital files and within minutes I had several files transferred over. I met them head on, assuming that I would be able to jump right in and get started. I looked at the more than 100 master files and thought that I must be going about this wrong. I had to close up the file and set it aside for when I had more time. This happened three times before I realized that I was not going about it wrong, there really were that many files. Imagine taking a curriculum guide book and converting it to a digital product page by page; with each page being it's own file. I was overwhelmed.
Knowing that I needed to give this product a fair review, I started early one morning. I spent well over three hours sorting, opening and printing files. I spent so much time on that portion that I would have been happy to not have to look at the files again, however I knew that I needed to persevere and see this thing through. In hindsight, I was under-equipped to realize the effort necessary to face this feat. Truly. When we reviewed the U.S. Elections program, Handsome took care of printing the files for me. I was extremely frustrated trying to figure out which pages coincided with which and I unwittingly blamed my frustration on him, assuming that he somehow mixed up pages. I now fully recognize the error of my ways! The files come through in a way that appears organized but yet there are a multitude of files that each need to be opened and printed – One.At.A.Time (I had to stress that as clearly as possible). I tried to select several and print them at once, but it did not appear to be possible (I recognize that this could have been operator error, but try as I did, I could not find a solution). So, after hours of printing those files – one at a time – I would have been happy to use the full 1-inch thick stack of papers for fire starter. Unfortunately, it is the summertime and besides, those papers contained information that are valuable for our kids'education.
I always like it when I can say that we started at page one. We have been studying this time period for quite some time now, and even though the early lessons were completely review for us, we knew that we needed to start at the beginning to complete the projects. We made the decision to make a single lap-book as a family, instead of individual ones for each of the kids. Bookworm Beauty took the leadership role and managed the projects from each lesson, working with both Sweetness and The Boy to get those items completed and set aside for the assembly of the lap-book.
There are 25 lessons total, five or which are designated project days for completion of the daily projects that coincide with each lesson and one is a designated celebration day. Each of the 19 actual lessons include a 2-3 page written text lesson and a coinciding project. Projects vary, making the optional final resulting lap-book an enjoyable experience to both make and to review at a later time. I encourage people to not overlook the value of a good lap-book. Every time Bookworm Beauty shares her U.S. Elections lap-book with a guest or a friend (or reminiscing by herself) she gets an opportunity to share what she had learned. It serves as a visual outline to a well written speech for her as she recalls many facts and explains each project piece, lifting flaps and opening mini-books. We look forward to assembling The American Revolution lap-book as a family. I imagine that it will become a coffee table conversational centerpiece for quite a while.
In total, there are less than 60 pages of text to be read, covering the American Revolution events during the time period between 1600-1800, from the first colony through to the Constitutional Convention. We have learned about the Boston Tea Party, the early struggles of the nation, some of Benjamin Franklin's inventions, many famous individuals that we did not previously know, and so much more! We did not sit down and complete this program one lesson at a time; reading the text and working on a project. We took the text with us on a road trip and read over half of it together, discussing things along the way. We recently read several of the Rush Revere books which covered some of the same material, so our discussions were lively as the kids recalled many details.
During the last week we have taken the time to work on the projects that coincided with the pages that we already read. It has been fun to remember details as we sit around the table together, coloring lap-book pieces. Unfortunately (or fortunately) we have not gotten very far as the kids got sidetracked with the Tax Game! There are three board games that can be made: The Tax Game, Battle Blitz Game and Liberty at Last Game. We have had to refrain ourselves from assembling the other games and getting ahead of ourselves, but have really enjoyed understanding the frustration and dynamics that came along with the immense taxation.
Our favorite lesson, thus far, was lesson 12: Let Freedom Ring! It certainly helped that we celebrated our nations birthday during the review period. We reminisced about how we often read the story of the birth of Jesus on Christmas Day and His death and resurrection on Easter, yet we have never read the Declaration of Independence as part of our 4th of July celebration, until this year! This will be a new annual tradition for us, thanks to Home School in the Woods!
Another aspect of Home School in the Woods worth mentioning is that they offer a plethora of hands-on-learning activity-based History resources. They also offer A La Carte items such as printable game boards, file folder studies, mini-studies, timelines, and more. One could find a great addition to almost any history study. At this time, anyone can use the code alacarte at checkout to get the Erie
Canal project on that page for free!
It has been an amazing journey walking through the events of our beloved country's birth and early years. We just might move on to the Time Travelers: The Early 19th Century, if I can work myself up to acceptance of the amount of work spent in preparation alone.