Foreign languages bring a richness to any education. There is something magical and simply beautiful about learning a second, or even a third language. Our homeschool has spent a lot of energy over the years on soaking up Spanish, primarily because it is a language Bookworm Beauty has excelled in and it seems to have a more practical use in our immediate world around us. However, when we were informed of the opportunity to study Biblical Greek with Hey, Andrew! Teach Me Some Greek! – Level 2 Set by Greek 'n' Stuff, we were beyond ecstatic.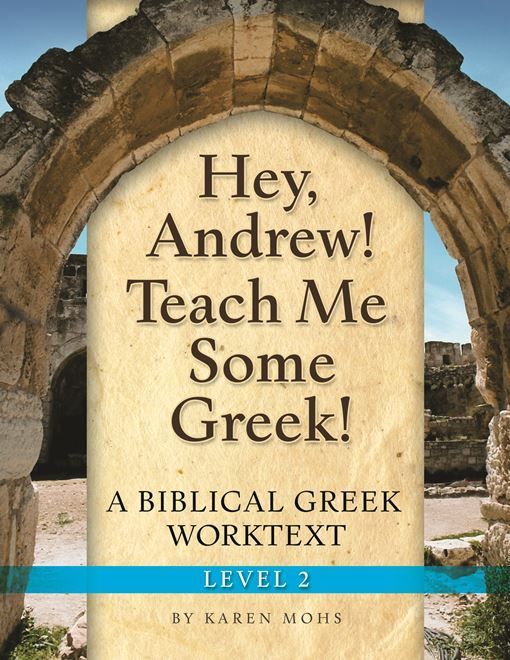 To give a bit of history, Greek had never been one of my top choices for a second language. I am not sure if it would have even been on my list, and I do not really know why that is. As we work through this program, I am actually saddened and wonder why we did not make this a priority sooner!
I would have liked to review Level 3 but having no real understanding of Greek, we determined that Level 2 would be a better option for us to review. We received a consumable workbook, an answer key and a pronunciation CD. My initial thoughts were that my package might have been missing pieces; as the foreign language products we have used in the past have consisted of multiple pieces or elements. After reviewing the items and verifying that everything was there, I was realizing that Hey, Andrew! Teach Me Some Greek! could not be any simpler.
After spending less than a half an hour familiarizing myself with the workbook and reading the welcome letter, I felt fully prepared and was ready to get started. Simple.
We jumped right in and began our journey working through the Greek alphabet review, which was four lessons. This took several weeks for us, working approximately thirty minutes a day, a few days a week. Each of these four lessons were six pages in length and introduced, or reviewed, six alphabet letters. This would move faster for anyone that already knew the Greek alphabet and was simply reviewing it. I took the author to heart when she mentioned the importance of monitoring your child's individual progress and mastery, as this is not a program to just work through and check it off of your list. It is critical that each area is mastered before moving on.
It was typical for us to spend around twenty minutes introducing two of the letters, their correct pronunciation (thanks to the CD), it's proper writing formation and then spend a few minutes completing the practice worksheet. The second part of the lesson involved reviewing flashcards (provided in the back of the workbook). Our time varied with this portion as the kids began to get creative, making up games to go along with their study.
Looking forward, after learning the alphabet, students are introduced to vocabulary words such as I know, a son, and an apostle. There are a total of eleven vocabulary words. Again, simple. I know that eleven words are certainly not enough to be considered fluent, but if after thirty lessons my children can recognize, recall and recite the entire Greek alphabet and eleven words through a simple and fun program, then I consider the program a huge success!
Greek lays the foundation for much of our English language, as well Biblical text. Because of this, I see this program as an introduction to a better understanding of the written Word. As a matter of fact, after walking with the Lord for over 25 years, I did not even know what an interlinear bible was (English, Greek and Hebrew parallel Bible for more in-depth study.) I can accredit Hey Andrew! Teach Me Some Greek! For that knowledge nugget. I am really looking forward to developing my own understanding of Greek, as well, so that I can be less intimidated about studying the Word in it's original written language. It is my understanding that the overall long term goal of the program is to lead to this specific point, making the intimidating simple.
In level 3, students begin to read an interlinear New Testament. I literally get goosebumps thinking about the kids being able to actually study the Word at this level, at their ages, not in their 40s! If a student continues even beyond that, she would be able to start reading a regular Greek New Testament, which would be really great, but honestly just being comfortable with an interlinear Bible is fabulous in itself.
In the end, I had plans initially to use the program with Bookworm Beauty only, but now I am finding the importance of learning Greek as a family and how that will impact our family Bible study time, in such a simple way too! I also realize that since both Sweetness (8) and The Boy (7) have been following along, I will need to hurry up and order them their own workbooks before we get too far!