Wow! That is the best way for me to sum up our review experience with Brinkman Adventures Season 4 by Brinkman Adventures. We have been so impressed with this audio drama radio show that we are wondering why we waited so long to enjoy this fabulous product!

We were first exposed to the Brinkman Adventures nearly a year ago, in a conversation. It sounded like a great radio show but we were in the middle of several months of chaos in our home. I put my interest aside and unfortunately forgot all about it. Months passed and we were loaned the Season 1 CD's, which were also set aside and nearly forgotten.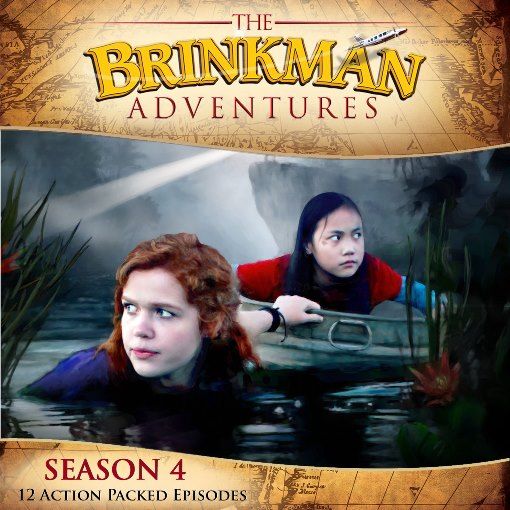 It was not until we were given the opportunity to review Season 4 that we actually took the time to begin listening. This has been one of those kick-yourself-for-not-doing-it-sooner experiences.
The Brinkman Adventures is a radio show that shares true and inspiring missionary stories through fictitious audio dramas. These stories have brought to life for us the dangerous adventures that missionaries often experience while sharing the Good News. Although some adventures include seemingly life-threatening experiences, they are family friendly stories for all ages. If an adventure has really difficult content, the beginning of the drama offers an explanation that some content in it could be a bit much for a child under the age of 10 that is listening without an adult. Sweetness and The Boy are both under 10 and were ok with all of the content of the episodes we have listened to thus far, but some children may need some guidance.
Each episode has enabled us to talk further about missions work and God's hand in enabling the spreading of the Gospel. Although there are many situations that missionaries encounter, each story shows how God has protected them, provided for them, and ultimately changed the lives of many.
Talking about missionaries with the kids has been enjoyable, but the real value has come in watching the hearts of my children being prodded to remember to pray for missionaries. No one in our family has been called to the missions field, yet, but we believe it is still our responsibility to help by supporting missions through prayer and giving. I have been in awe, listening to my children pour their hearts out to God, asking for His protection and provision for various missionaries, some by name. It has been a tremendous blessing to have my children's eyes opened to the life of a missionary in a way that I could hot have done. Although we have talked about missions over the years, The Brinkman Adventures have brought it to life for us and we feel that we are right there with them in the mission field as they spread the Good News.
One of the episodes involved the salvation of a witch doctor in the Congo. As the story unfolded and the witch doctor received Jesus, The Boy (7), let out a victorious "WOW!" What struck me in that moment was that my 7 year old understood the life transformation that had taken place as an enemy of Christ found the love of Jesus!
Another episode involved Nhu, a young girl in Cambodia that was sold into slavery to work in a salon. The audio drama only shared part of her story as the true story of Nhu is that at the age of 12, she was a victim of sex trafficking, sold by her grandmother. This is heavy material and unfortunately, a reality for many children in our world. Although I did not go into detail about Nhu's true story with the younger two children, I did talk with Bookworm Beauty (12) about this reality. I appreciate how the Brinkman Adventures create opportunities for me to broach more difficult subjects with my children. Although the younger two were not aware of the sex trafficking,we were still able to talk about child slavery. This was still a heavy subject and it allowed us to be able to discuss the evil that surrounds us in this world. This episode gave the children another specific area to pray for and has given Bookworm Beauty another reason to be mindful and attentive in public as sex trafficking is a real issue worldwide, including right here in America.
Our normal bedtime routine usually involves some sort of family gathering as one of us reads from a good book, we watch a fruitful movie or show, play a game or listen to an audio drama. Lately, the only thing the kids have wanted to do is hear another Brinkman Adventure and then another! Brinkman Adventures Season 4 is available as a digital download or physical CD's and consists of 12 episodes, each just under a half hour. We listened to all of season 4 within a few days because they were just that good! The kids wanted more and fortunately for us, we have the few CD's from Season 1 still hanging around. We have begun working through Season 1 and I am quickly realizing that we will need to buy the rest of the seasons to add to our family library!