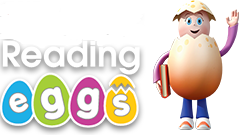 I typically try to avoid using digital programs for basic curriculum in our homeschool, for a variety of reasons. Unless it is for a supplemental program, such as typing or engineering, any programs requiring the usage of an electronic device are heavily scrutinized in our home and it is with such scrutiny that I reviewed Reading Eggs.
Reading Eggs is an engaging online subscription-based reading program that teach kids ages 2-13 to read, and read well, through games and activities. Also included in the online subscription is access to Mathseeds, a similar type of interactive math program for kids ages 3-9.
It was almost a year ago that The Boy (then 6) was struggling to learn to read, while his best buddy was soaring through stories. All five of my daughters learned to read well at young ages so it was different for me to have a struggling reader. When I talked to his buddy's mother about her sons reading, she accredited all of his success with Reading Eggs. That was the first time I had heard of the program and looked into getting a subscription when suddenly, everything seemed to finally click for The Boy and he no longer needed the subscription, or so I thought.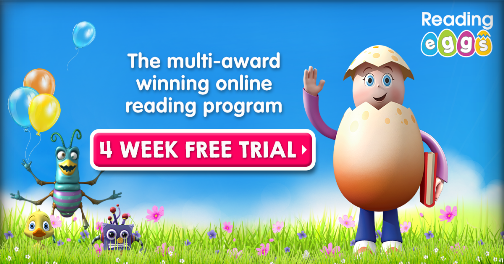 Fast forward nearly a year later and we had this opportunity to review this program. We were given two subscriptions, one for The Boy (now 7) and one for Sweetness (8). When setting up their accounts, I was given the option of one of three different levels in their program: Reading Eggs Junior (2-4), Reading Eggs (3-7), and Reading Eggspress (7-13). I set Sweetness up with Reading Eggspress level and The Boy with Reading Eggs had them complete their assessments to find out where they needed to start. Although I did not need to use it, I like the fact that I have the option to adjust the level of their lessons if I think that they need additional review or a more advanced level.
Although I prefer that the kids do not do a lot of school electronically, they see it as a treat and are always eager to jump right in and get started. Reading Eggs was no exception to that norm! The difference between this and other programs we have tried over the years, is that the kids' interest was held. The program is set up in such a way that it is more like playing a game than studying. The first time Sweetness logged in after completing her assessment, she spent over two hours completing lessons and playing games with the eggs she had earned. It was addicting and she was eager to complete more lessons to earn more eggs so that she could continue playing the games.
One of the things that I appreciated when first looking into Reading Eggs is both the Lesson Overview section available under the About drop down menu on the home page and the 36-page downloadable Parent User Guide for Reading Eggs and Reading Eggspress. The Lesson Overview provides a quick snapshot of each lesson. I quickly gravitated to the Spelling overview to find the word family that we are currently working on with The Boy. This allowed me to tailor his Reading Eggs Spelling lessons and games to coincide with the words he is needing to practice. This was a real treat for him and I both! He loved the activities and I really liked the fact that he learned those words with far more ease than previous word lists. The Parent User Guide is worth printing out or saving to your computer for easy access. This guide goes into greater detail of Reading Eggs. Along with the lesson overviews, you will find information on how to use the program, where to locate things like printable activity sheets, and how to navigate the program. Reading Eggs Junior is not covered in the Parent User Guide and I do not know if the program is run similar to Reading Eggs or Reading Eggspress so I can not comment on how useful the User Guide would be for someone working on the Junior program.
After enjoying Reading Eggs for the last several weeks, I have noticed that my children have been attempting to fill all of their discretionary time logged into their accounts. They have been able to use any device with internet access, including my cell phone during a long car ride. I can say with certainty that it has met our standards for electronic educational programs. Also worth noting, there are several apps available for iPhone and Android devices.
Another fabulous treat with Reading Eggs is their newly released homeschool guide downloadable resource that offers a detailed week-by-week overview for kids K-2nd grades. This guide is an
excellent way to keep track of a child's progress and stay on track with introducing new concepts.
It has become a common sight in my home to see Sweetness and The Boy snuggling on the couch with the laptop, giggling! I have appreciated their love of the program. They are quick to get all of their schoolwork done so that they can login to Reading Eggs and play some games. Anything that motivates the kids to complete their work is worth trying, and with their current 4-Week Free Trial, it is easy to try.